The Atlantic Pilotage Authority and the Halifax Mission to Seafarers  celebrated the Atlantic Pilotage Authority's 45th Anniversary And the Halifax Mission to Seafarers' 75th Anniversary
The Atlantic Pilotage Authority (APA) provides a valuable and necessary service to the marine community in Atlantic Canada. The highly skilled marine pilots employed by the APA make a vital contribution to the protection of the environment, to safeguarding the lives of mariners, and to preserving and promoting the economic wellbeing of ports in Atlantic Canada.
We at the Mission to Seafarers are grateful to our community partners and donors for their financial support which is crucial to our ability to continue to provide much-needed services to seafarers visiting the Port of Halifax.  The Atlantic Pilotage Authority is a critical resource and we are most appreciative of their significant on-going support.  Pictured here are: Mission Manager, Helen Glenn; Chaplain, Rev. Maggie Whittingham-Lamont, Mayor Mike Savage, CEO, Atlantic Pilotage Authority  and Chair of the MtS Board, Captain Sean Griffiths, Chair of the Atlantic Pilotage Authority Board L. Anne Galbraith, Vice-Chair of APA Board, Patricia Mella with CEO of the Port of Halifax, Karen Oldfield.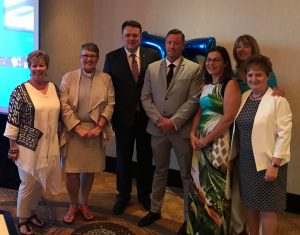 ---
Port of Halifax named 2015 Port of the Year
June 9, 2015, Halifax, NS – The Port of Halifax has been named the 2015 Port of the Year by the International Seafarers' Welfare and Assistance Network (ISWAN). The award was handed out during a ceremony at the International Maritime Organization in London, England. "It is a tremendous honor to be named as the 2015 Port of the Year in the International Seafarers' Welfare Awards," said Karen Oldfield, President and CEO, Halifax Port Authority. "The Port of Halifax is a very tightknit community and it is humbling to accept this award on behalf of our stakeholders and partner organizations – marine pilots, tug operators, shipping companies, terminal operators, the entire cruise industry and of course the Halifax Mission to Seafarers."
All of the agencies involved work tirelessly to provide a warm welcome, guidance and support for those international visitors to our port who are often in need of the quiet dignities that we otherwise take for granted. Through the Halifax Mission to Seafarers, vessel crew can make a phone call, access the internet, play pool, worship in the chapel or just relax and chat with a volunteer over a cup of coffee. Volunteers and staff transport seafarers from the ship to the Mission and throughout Halifax for shopping, sightseeing, and various other errands. Crew working on cruise vessels are able to access free Wi-Fi from the cruise pavilion, something many take the opportunity to do as it allows them to stay connected with family, friends and the things that matter.
The world's largest shipping lines call on the Port of Halifax, connecting the port to more than 150 countries. The Halifax Seaport is a premier destination. Collaborating and working with strong partners and stakeholders, the Port community continues to deliver excellence.